Welcome to Our Website!
Our History                 Next Meeting                  Newsletters

The Huntsville Gem and Mineral Society (HGMS) is a non-profit educational organization for people interested in mineralogy, geology, paleontology, lapidary arts and related fields.  Our primary purpose is to educate our members and the general public in these areas.  We accomplish this by presenting programs, shows and lectures (to school children and organizations); hosting field trips; and exchanging rocks, minerals and fossils.
We have regular monthly meetings, and special annual events, such as the Fundraising Auction, the Picnic and Rock Swap, the Gem, Jewelry, and Mineral Show (the largest in North Alabama), and the Christmas Dinner.  Plus, HGMS members have access to a state-of-the-art lapidary shop and to jewelry crafting activities, such as wire working and metalsmithing.  Guests and visitors always welcome!
President's Message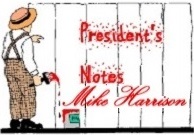 Happy Holidays to all!
As we bring this year to a close, I personally wish every one of you reading this a very happy holiday!  I think this is where I'm supposed to recap this year and say how great it has been.  I do hope it has been a great year for you individually, but with the pandemic, I don't think anyone had a "normal" year.  Here at HGMS, we overcame in spite of it all.  We moved into our new facilities (thanks to the city of Huntsville for the facilities and to all the wonderful volunteers who did all of the hard work), adjusted to a new normal, and kept in touch as best we could.  We are in the process of hammering out a new budget and setting new priorities.  Even with limited funds starting out, we are optimistic that we can provide our membership with the activities you deserve.  Maybe not all that we did before but as close to it as we can.  The groups are as close to normal as possible, so come out and do lapidary, jewelry and metalsmithing with us!  Also get involved with the GeoSciences group and Pebble Pups!  And we hope to start our monthly meetings soon too!  One last thing, be sure to look for the slate of officers in this issue and vote on them per the directions attached.  As always, your vote and opinion counts!
And Happy New Year!
Mike Harrison
Dues are Due Now!
New and current members please remember to pay your annual dues.  Dues are a bargain at $15 Single/$20 Family!  Your dues cover about half of the HGMS Annual Budget.  The income is used to help provide support for our many activities – access to our new Education Center, Lapidary, Jewelry, Metals, Pebble Pups, GeoSciences, Field Trips, AFMS/SFMS/DMC Federation Membership and Insurance, Newsletter, Monthly Programs, Web Page, Auction, Fall Gem, Jewelry, and Mineral Show, Picnic, Christmas Dinner and Outreach.
Official Name of the New HGMS Facility
Bob Kemper conducted a contest in June to find a name for our newly renovated home in the old Grissom High Field House.  A dozen names were submitted, and then sent back out to the membership.  Pat Allen's suggested name got the most votes, so the place is now officially:   The Huntsville Gem and Mineral Education Center.  Congratulations Pat!