Note:  The March 17th meeting was canceled due to the threat of severe weather, so please note that the class dates and times have changed.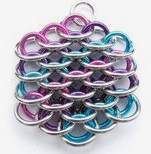 The next class is in 2 sessions:  March 24th, 2-5p, and March 31st, 6-9p:  Dragonscale Keychain.  The long awaited Dragonscale chainmaille weave is here!  Our project will be similar to the one pictured here.  Kit cost is $5.  The kit contains rings for making one keychain and instructions for making a bracelet.  (You are responsible for providing your own rings for making a bracelet.  You can order rings made from club wire but you must contact Judy in advance.)
Please note that Judy will need to limit the class size to 6 for teaching.  This doesn't mean you don't need to come – It just means Judy may need to move some people to March 31st to teach smaller groups.  One way or another – she'll get everybody through this class successfully!  Please let her know which class you can attend.
Note:  March 31st is a bonus Wednesday.  You can use the time to make/finish your Dragonscale keychain or work on an individual project.
Next Month: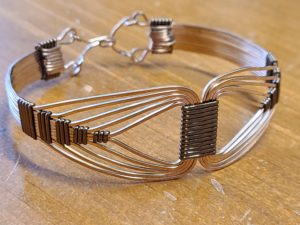 April 7th, 6-9p:  Nefertiti Bracelet.  Put your wireworking skills to the test with this open wirework Egyptian-style bracelet.  Kit cost is $5.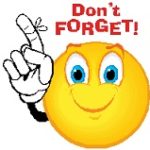 Unless indicated, all RCJ meetings are every Wednesday in the Rocket City Jewelers room in the new Huntsville Gem and Mineral Education Center, 7901 Bailey Cove Road SE, Huntsville.  Please enter the South parking lot from Bailey Cove Road SE, and enter the center through the glass double doors.