The next class is December 4:  Christmas Tree Pendant and/or Falling Star Chainmaille Earrings.
You may make your choice of one or both projects.  You must RSVP by November 27th.  Text Leslie at 256-755-0479 or Judy at 205-541-7207 to reserve your kit(s).  Kit prices are TBA.
For wireworkers: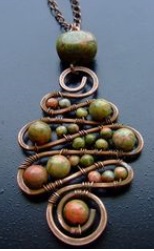 Christmas Tree Pendant – The tree is made by forming copper wire into a Christmas tree shape using a template.  Then various colors of glass and gemstone bead "ornaments" are lashed onto the tree and a jump ring is attached at the top.  (The photo is an example.  The actual beads will be ornament colors.)
For chainmaillers: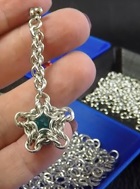 Falling Star Earrings – Each star is made by enclosing a faceted glass bead in Byzantine weave and attached to a "trail" of Jens Pind Linkage (JPL) weave.  The whole falling star is then attached to an earring finding.  Both weaves are made using bright aluminum jump rings.