The next meeting is January 26th, 6:30p:  Recycling of Earth's Rocks

Hello Future Rockhounds!

We'll continue our series on Recycling of Earth's Rocks, following Erosion and Weathering in October and November, we will next look at Deposition, that is, the dropping off of rock materials after they have been removed from their original location by erosion and weathering.

About Pebble Pups
The Pebble Pups (formerly Future Rockhounds of America – FRA) is a program for youngsters to learn more about the world around us, concentrating on rocks, minerals, fossils, and geology.  We offer field trips, too.  Interested Future Rockhounds (children and grands of members, ages 8 to 18 years old) are welcome to come join us to investigate and discover rocks, minerals, gems and fossils.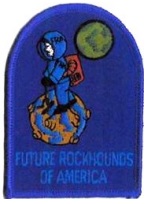 We are still part of the Future Rockhounds of America and will still be working on the merit badges that they offer.  We just changed our name.
More information about the Future Rockhounds of America program can be found at AFMS Juniors – FRA Badge Program (amfed.org).
We can't wait to see you at the next meeting!  Bring your friends!
Your Rockhound Leadership Team
Mike Harrison, campcraft.mike@gmail.com
Dee Morton, deemorton@hotmail.com