The next meeting is September 28th, 6:30p:  Activity Stations


Calling all Pebble Pups!
Come to the HGMS Education Center on September 28th for the Pebble Pups meeting at 6:30p.  In case you are a first timer, the Education Center is located in the Sandra Moon Complex at 7901 Bailey Cove Rd SE, Huntsville in the old Grissom High School Field House.
This month, we will have a new meeting format.  We will have stations set up so each Pup can turn in home work, work on an activity that they missed, explore something new and of course, participate in the current program.
And this month's program is laying out the Pups' display cabinet for the show.  So be sure to bring your favorite rock/mineral that you want to display in our cabinet.  And make sure you bring a label telling what it is, where you found it (if you personally collected it), and your name and age.  First name and last name initials are ok.  We just want to make sure you get your rock back.
We will also have other tables set up to sign in and turn in "homework" for credit, a Catch-Up table to work towards other badges, a coloring table, and maybe a table to do the crystal growing activity for those who missed it.  And, of course, a sign-in table that will also be the "homework" turn in table.  And we hope to have a "surprise" table with a really cool activity.  One last table will be one to lay out the "bagged and tagged" rocks for homework and participation.  It will be next to the sign-in/homework table.

One last opportunity:  one of the badges is #16, "The World in Miniature", and involved in that badge is collecting and classifying sand!  I have about two gallons of sand from Gulf Shores, AL, and we plan to have a table set up with microscopes to see the structure of that sand.  Here is your opportunity!  If you will bring sand that you collect from a family trip over the next year, we can classify it as well and I will give you a sample of my Alabama Beach sand.  You can collect sand from anywhere (including Sand Mountain), and it can be collected by a parent or a friend (say, White Sands, New Mexico) to share with the group!  Be sure to collect enough to share with everyone.  I collected two one-gallon Zip Lock bags full.
But remember, everyone must first help Dee Dee to layout and submit their specimen for the display case.  After that, you can visit any or all of the activity stations!
Your Pebble Pups Team – Mike, Dee Dee, Angela, and Bill
About Pebble Pups
The Pebble Pups is a program for youngsters to learn more about the world around us, concentrating on rocks, minerals, fossils, and geology.  We offer field trips, too.  Interested children and grands of members, ages 8 to 18 years old are welcome to come join us to investigate and discover rocks, minerals, gems and fossils.  For contact information, please email hsvgems@gmail.com.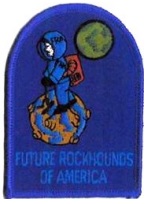 More information about the Future Rockhounds of America program can be found at AFMS Juniors – FRA Badge Program (amfed.org).