Show Dates/Hours
Friday, October 9th:  10am to 6pm
Saturday, October 10th:  10am to 6pm
Sunday, October 11th:  Noon to 5pm
Location
The Jaycee Community Building, 2180 Airport Road SW, Huntsville, Alabama.  Parking is free and we'll be conveniently close to local restaurants and shopping.  Here's the outside of the building and a map of South Huntsville showing the building location indicated by the red dot: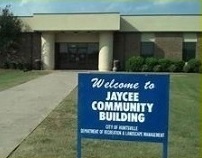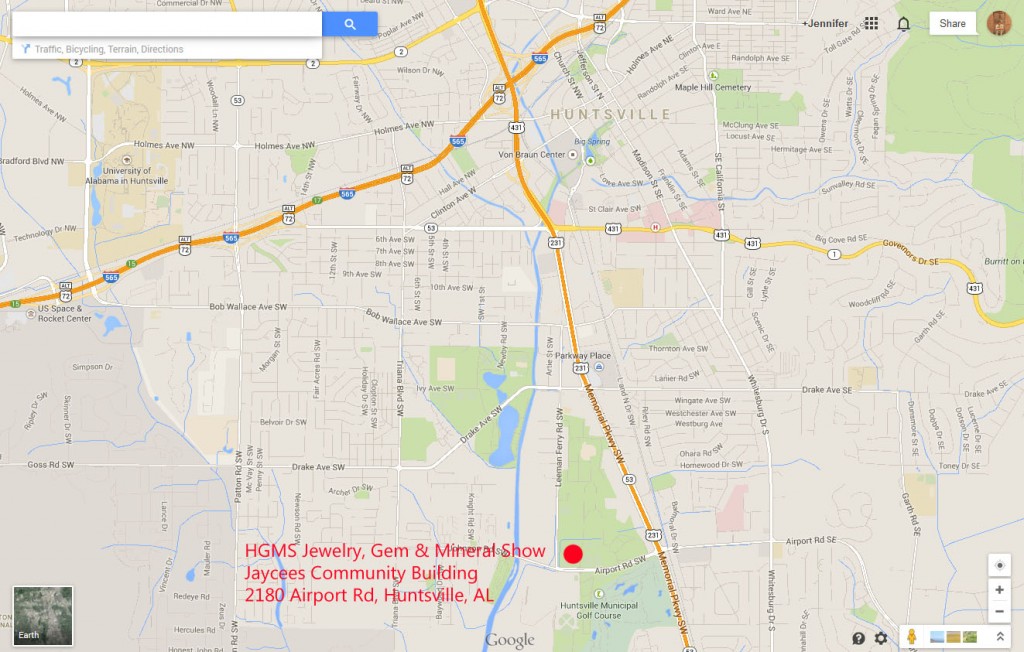 Show Features

Your kids will jump for joy when they see our Kids' Activity Area Extravaganza!  It'll be like a crash course in rockhounding!  Kids of all ages are invited to come play with us as we learn how to classify rock specimens, conduct the Mohs hardness test, build crystal models, dig for fossils, pan for gemstones, and go on a scavenger hunt!  And younger children can make fossil rubbings and take pictures with our 8ft-tall T-Rex dinosaur!  There'll also be a fluorescent room where you'll marvel at the glowing rocks and minerals!  You won't want to miss this adventure!
Plus, we'll have our regular vendors offering a wide variety of minerals, crystals, jewelry, lapidary supplies, rock-hunting supplies, and more!  You'll also see gem, mineral, and jewelry displays, and lapidary and related arts and crafts demonstrations!
Admission
A $3.00 donation per person is requested at the door, with children under 5 free, and there'll be weekend passes available for $5.00.  Plus we'll have an hourly drawing for Door Prizes and Raffle Prizes so save those ticket stubs!
Come Join the Fun!
We had a great turnout last year, and we're looking forward to another Big Show this year.  So spread the word to all your family and friends, and come join us for a fun weekend this Fall!
Show Flyer
Please help us advertise our show!  Click here to open the show flyer.  Share it on social media, print it, distribute it, and post it at local businesses (with permission)!!