Welcome to Our Website!
Our History                 Next Meeting                  Newsletters

The Huntsville Gem and Mineral Society (HGMS) is a non-profit educational organization for people interested in mineralogy, geology, paleontology, lapidary arts and related fields.  Our primary purpose is to educate our members and the general public in these areas.  We accomplish this by presenting programs, shows and lectures (to school children and organizations); hosting field trips; and exchanging rocks, minerals and fossils.  We have regular monthly meetings, and special annual events, such as a Fundraising Auction, a Picnic and Rock Swap, a Gem, Jewelry, and Mineral Show (the largest in North Alabama), and a Christmas dinner meeting.  Plus, HGMS members have access to a state-of-the-art lapidary shop and to jewelry crafting activities, such as wire working and metalsmithing.
Guests and Visitors Always Welcome!
Announcing the Annual Picnic and Rock Swap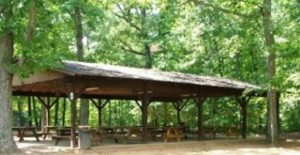 This year's Picnic and Rock Swap will be Saturday, June 29th at the large Pavilion in Monte Sano State Park (see map below).  You can make a donation at the park entrance, but there won't be an extra entrance fee.  The picnic will start at 9a.m. and probably wrap up around 2p.m.  Guests are welcome to join us!
The club will provide meat and everyone is asked to bring a dish to share.  Be sure that your dish is picnic friendly.  If your dish needs to be kept cool, please use an ice chest.  There won't be a refrigerator or a microwave.  The club will also provide drinks, plates, napkins, etc.
There will be tables and benches under the Pavilion, and you're welcome to bring your own chair(s).  There are restrooms and a kids' playground under shade trees.
Members are invited to bring your rocks, etc., for swap or sale, and bring cash or check to make purchases.  This is a good opportunity to swap or sell your wares and to purchase new items.  But this isn't an HGMS fundraiser.  There won't be a fee to sell your items, and any proceeds will be your own.