Welcome to Our Website!
Our History                 Next Meeting                  Newsletters

The Huntsville Gem and Mineral Society (HGMS) is a non-profit educational organization for people interested in mineralogy, geology, paleontology, lapidary arts and related fields.  Our primary purpose is to educate our members and the general public in these areas.  We accomplish this by presenting programs, shows and lectures (to school children and organizations); hosting field trips; and exchanging rocks, minerals and fossils.
We have regular monthly meetings, and special annual events, such as the Fundraising Auction, the Picnic and Rock Swap, the Gem, Jewelry, and Mineral Show (the largest in North Alabama), and the Christmas Dinner.  Plus, HGMS members have access to a state-of-the-art lapidary shop and to jewelry crafting activities, such as wire working and metalsmithing. Guests and visitors always welcome!
President's Message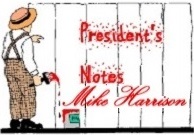 Hello all!  I do hope this note finds you well!  A few of the brave met for our annual picnic and rock swap and it was awesome!  We are also making great progress on getting the Huntsville Gem and Mineral Education Center together for the Grand Opening!
We are waiting on the powers that be to give us the word that we can meet in person formally and we hope it will be soon.  Until then, we do still have lots of work to do on out new "digs".  If you are "handy" and want to help, please contact Bill Friday about what needs to be done and how and when you can help!  That way you can get a sneak peek at all of the planning, prepping and "git 'er dun" activities that have happened so far!
Your humble Prez,
Mike Harrison
Announcing Our 52nd Annual Gem, Jewelry, and Mineral Show!
October 9th – 11th, 2020
Jaycee Community Building, 2180 Airport Road, Huntsville
Looking for something fun to do this Fall?  Look no further!  Our show is the LARGEST of its kind in North Alabama and Southern Middle Tennessee!  This year's show features an expanded Kids' Activity Area!  You can build crystal models, classify rocks, conduct a Mohs hardness test, pan for gems, dig for fossils, take pictures with an 8-foot T-Rex dinosaur, and much more!  Plus, we'll have our regular vendors, a huge assortment of gemstones, fine jewelry, beads, lapidary supplies, demonstrations, displays, hourly door prizes, and more!  So mark your calendars now and plan to attend the show!   For the show schedule and a map to the Jaycee Building, click here.