Welcome to Our Website!
Our History                 Next Meeting                  Newsletters

The Huntsville Gem and Mineral Society (HGMS) is a non-profit educational organization for people interested in mineralogy, geology, paleontology, lapidary arts and related fields.  Our primary purpose is to educate our members and the general public in these areas.  We accomplish this by presenting programs, shows and lectures (to school children and organizations); hosting field trips; and exchanging rocks, minerals and fossils.
We have regular monthly meetings, and special annual events, such as the Fundraising Auction, the Picnic and Rock Swap, the Gem, Jewelry, and Mineral Show (the largest in North Alabama), and the Christmas Dinner.  Plus, HGMS members have access to a state-of-the-art lapidary shop and to jewelry crafting activities, such as wire working and metalsmithing.  Guests and visitors always welcome!
President's Message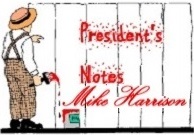 Hello all,
I can't believe three fourths of the year has passed us by!  I don't know about you
but I have a really bad case of cabin fever.  The good news is, the Huntsville Gem
and Mineral Education Center is almost up and running!  Look in this issue for times
the center is open and plan for an outing to play with pretty rocks, shiny settings,
colorful slabs, and wire wrappings that bedazzle!  We have something for everyone!  It is also time to think about selecting a slate of officers to lead us thru the next year!  As your humble President, it has been a pleasure to serve.  The other HGMS leaders feel the same, I'm sure.  So I request that you look over the list of officers and committee chairs and consider how you might like to serve.  (In this month's newsletter, see Page 9.  On the Website, select Contact Us, Contact Information.)  Or maybe you think someone else would do a great job in one of those positions.  Please email me at william.m.harrison@boeing.com with the name of the person and the position you think they match so perfectly and we will contact them to see if they will serve and we can add them to the slate of candidates!  One position in particular that needs a person to fill is the Hospitality Chair.  Our very lovely Caryl Nixon, who has served faithfully for many years has decided to step down.  She will be missed in ways we have yet to realize because she worked so hard yet made it look so easy.  Caryl, we salute you and wish you the very best and hope we get to see you around.  And please keep in touch!
Mike Harrison, HGMS President
Dues are Coming Due on January 1st, 2021
New members and current members who pay their dues now will be credited for all of 2021.  Get ahead of the crowd and pay ahead!  Take a load off of the Membership Chairman!  Dues are still $15 Single/$20 Family.
Official Name of the New HGMS Facility
Bob Kemper conducted a contest in June to find a name for our newly renovated home in the old Grissom High Field House.  A dozen names were submitted, and then sent back out to the membership.  Pat Allen's suggested name got the most votes, so the place is now officially:   The Huntsville Gem and Mineral Education Center.  Congratulations Pat!
Auction Update

Due to the cancellation of our March auction fundraiser, and subsequent loss of revenue for the club, it's been decided to take the auction on line.  After much research, I've chosen a platform designed specifically for non profits.  It features real time bidding from any device.  We hope to go live in October.  Information on how to bid and a link to the site will follow in next months newsletter.  Be ready to shop! – Shelley