Welcome to Our Website!
Our History                 Next Meeting                  Newsletters

The Huntsville Gem and Mineral Society (HGMS) is a non-profit educational organization for people interested in mineralogy, geology, paleontology, lapidary arts and related fields.  Our primary purpose is to educate our members and the general public in these areas.  We accomplish this by presenting programs, shows and lectures (to school children and organizations); hosting field trips; and exchanging rocks, minerals and fossils.
We have regular monthly meetings, and special annual events, such as the Fundraising Auction, the Picnic and Rock Swap, the Gem, Jewelry, and Mineral Show (the largest in North Alabama), and the Christmas Dinner.  Plus, HGMS members have access to a state-of-the-art lapidary shop and to jewelry crafting activities, such as wire working and metalsmithing.  Guests and visitors always welcome!
President's Message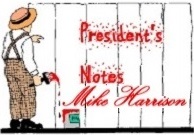 Well March is halfway past us and we have a meeting just around the corner!  And I can't wait!  I plan to be at the new Huntsville gem and mineral education facility and I hope to see you there.  All of the details are in this newsletter so keep reading and make your plans.
Your Prez, Mike Harrison