Welcome to Our Website!
Our History                 Next Meeting                  Newsletters

The Huntsville Gem and Mineral Society (HGMS) is a non-profit educational organization for people interested in mineralogy, geology, paleontology, lapidary arts and related fields.  Our primary purpose is to educate our members and the general public in these areas.  We accomplish this by presenting programs, shows and lectures (to school children and organizations); hosting field trips; and exchanging rocks, minerals and fossils.
We have regular monthly meetings, and special annual events, such as the Fundraising Auction, the Picnic and Rock Swap, the Gem, Jewelry, and Mineral Show (the largest in North Alabama), and the Christmas Dinner.  Plus, HGMS members have access to a state-of-the-art lapidary shop and to jewelry crafting activities, such as wire working and metalsmithing. Guests and visitors always welcome!
President's Message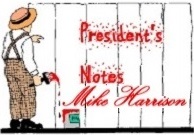 Hello everyone!  I am sad to announce that the board of directors felt they had no choice but to cancel the annual October show.  We have been exploring our options for a couple of months now and it came down to the economics of a restricted vendor and activities floor space.  Without going into the details, it was the only choice we felt we could make.  Also, we will NOT be having our September meeting because of the same restrictions that caused the show cancellation.  But I have good news!  The lapidary lab, the metals group and Rocket City Jewelers have actively been working to get their areas up and running and plan on resuming operations soon!  Look for more information on when and how to participate in this newsletter!
Your humble Prez,
Mike Harrison

Due to concern for public health and safety during the pandemic, we have had to make the difficult decision to cancel this year's Annual Gem, Jewelry, and Mineral Show.  We appreciate all the work our volunteers have done preparing for the show, and we hope everyone stays healthy as we move through this challenging time.