Welcome to Our Website!
Our History                 Next Meeting                  Newsletters

The Huntsville Gem and Mineral Society (HGMS) is a non-profit educational organization for people interested in mineralogy, geology, paleontology, lapidary arts and related fields.  Our primary purpose is to educate our members and the general public in these areas.  We accomplish this by presenting programs, shows and lectures (to school children and organizations); hosting field trips; and exchanging rocks, minerals and fossils.
We have regular monthly meetings, and special annual events, such as the Fundraising Auction, the Picnic and Rock Swap, the Gem, Jewelry, and Mineral Show (the largest in North Alabama), and the Christmas Dinner.  Plus, HGMS members have access to a state-of-the-art lapidary shop and to jewelry crafting activities, such as wire working and metalsmithing.  Guests and visitors always welcome!
President's Message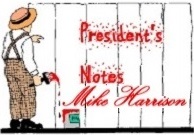 Happy Tax Day!  Just kidding!  We have another 32 days! (well, less when you read this).  On a less happy note, I just found out that William Holland has cancelled their classes for this year.  They cancelled all classes last year as well.  When they do resume classes, it will be an awesome opportunity if you get a chance and choose to attend one of the many classes they offer.  I attended a beginners faceting class there a few years back and I really want to attend other classes there in the future.  Their website is:  https://lapidaryschool.org/main.aspx.  Wildacres Spring Session (May 17-23) has been cancelled due to a lack of interest but registration for the Fall Session will be announced at a later date.  Their website is:  https://efmls.org/wildacres/.  Both schools are a treasure we cannot afford to lose and with COVID, it has seriously hurt their financial situation.  If you feel led, you can reach out to one or the other and donate minerals, supplies or money.  Anything would be appreciated and could not be needed more.
And on that note, if you ever get an email directly from me asking for anything, believe me, it is a scam.  Delete it immediately and rest assured, I have not lost my phone, found myself stuck in another country or even another state and I don't support great causes by asking you send gift cards to a P. O. Box somewhere.  It's not me!  By all means support great causes but do so by supporting them directly.  And I hope you do make it to this month's meeting.  It will be great!  Continue reading this great newsletter and but informed of all the great opportunities that we offer you as a club member!
Your President,
Mike Harrison
Field Trip Opportunity
Devil's Racetrack Geology and Fossil Hike, Saturday, May 15th
A thick layer of soft lime clay runs through Monte Sano and the surrounding hills in Huntsville.  On Wade Mountain in North Huntsville, in the Wade Mountain Nature Preserve, the layer is exposed a few dozen feet from the top.  The soil is toxic to most trees, so that only grass and a few hardy Eastern Red Cedars can grow there, forming an almost bare circular path around the hill.  Thus the name "Devil's Racetrack".   This area abounds in fossils including brachiopods, crinoids, blastoids, bryozoa, occasional shark bits, and even more rare, trilobites!  More information will be posted as it becomes available!