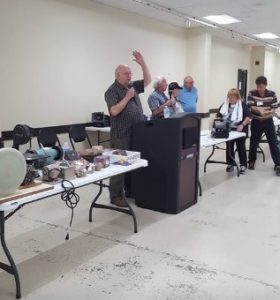 Next year's auction will be Saturday, March 21st, 2020 at the Jaycee Community Building, 2180 Airport Road SW, Huntsville, Alabama.  The preview starts at 9:00am, and the auction starts promptly at 10:00am.  Admission and parking are free.  Map to Jaycee Building.
The auction will be conducted by professional auctioneers and friendly HGMS member volunteers in a comfortable environment.  The "Buy It Now" table will be back by popular demand!  A food vendor will be available.  You're welcome to bring a lawn chair to relax outside.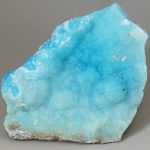 This annual event helps us to manage our operating costs and to support our activities such as the lapidary shop and the Pebble Pups.  HGMS members, guests and the public are invited to bid on a wide variety of gems, minerals, jewelry, lapidary tools, books, magazines, and more!  This year we'll have rough stones, slabs, specimens, finished stones, jewelry making materials for many mediums, finished jewelry pieces, art pieces and carvings.  We'll also have a good selection of lapidary and gemological equipment.

Attention HGMS Members:  As always, the auction runs on donations from you, our generous members.  Please bring your donations in now!  It's important that donations be properly valued and catalogued.  Include your name, a brief description of the item(s), and a suggested value.  Donations are tax deductible and receipts will be provided.  You can drop off donations from 6p.m. – 9p.m. Monday – Thursday in the lapidary shop at the senior center.  Or contact Shelley at curranshelley1@gmail.com to arrange for pick up.
Click here to open the auction flyer.   Share it through social media!  Print it, distribute it, and post it at local businesses (with permission)!