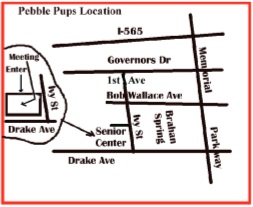 Welcome to Pebble Pups!  Do your kids want to dig in the dirt, go on hikes to find rocks and fossils, go to a mine and discover gems, or learn to smash rocks with a rock hammer?  If they do, join the Pebble Pups!  The only rule is that you need to accompany your child/children at all activities.
Who We Are:  Kids between the ages of 8 and 15.  New members are always welcome.  Bring your friends!
When We Meet:  6:00p.m. – 7p.m. the 4th Thursday of the month.
Where We Meet:  Huntsville-Madison County Senior-Center Cafeteria, 2200 Drake Avenue, Huntsville, Alabama.  Please enter through the North door (see map inset).
What It Costs:  Parents (or guardians) need to join the HGMS ($15/person or $20/family).
Who To Contact:  If you have any questions, please contact Brian Burgess, 256-479-2993, bburgess771@gmail.com, or Bill Friday, 256-527-8227, bill.friday@earthlink.net.
Next Meeting:  March 28th.  

This will be the second of three meetings to solve a mystery.  You'll pick a mineral specimen from Brian's collection and you'll have to tell him its name.  You'll work in groups of 2 or 3 and each Pup will pick a different mineral.  You'll apply various tests such as scratch, solubility, color, hardness, density, and so on.  Those Pups who've been attending for awhile and can still find their books, please bring them.  Remember safety when completing the tests.