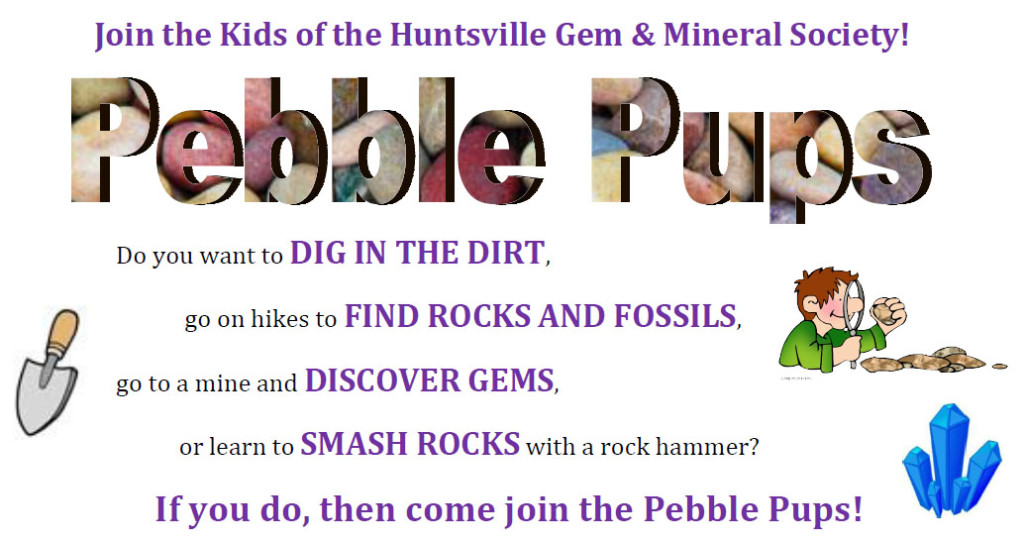 Welcome to the Pebble Pups!  Do your kids want to dig in the dirt, go on hikes to find rocks and fossils, go to a mine and discover gems, or learn to smash rocks with a rock hammer?  If they do, join the Pebble Pups!  The only rule is that you need to accompany your child/children at all activities.
Who We Are:  Kids between the ages of 8 and 15.  New members are always welcome.  Bring your friends!
When We Meet:  6:00p.m. – 7p.m. the 4th Thursday of the month.
Where We Meet:  Huntsville-Madison County Senior-Center Cafeteria, 2200 Drake Avenue SW, Huntsville, Alabama.  Please enter through the North door (see map in right side panel).
What It Costs:  Parents (or guardians) need to join the HGMS ($15/person or $20/family).
Who To Contact:  If you have any questions, please contact Brian Burgess, 256-479-2993, bburgess771@gmail.com, or Bill Friday, 256-527-8227, bill.friday@earthlink.net.
Next Meeting:  February 27th, 2020.