The next class is November 7th:  Fusing Mixed Metals.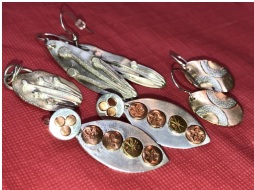 The project for November is exploring fusing mixed metals.  We'll be working in copper, brass, and silver to make a pair of earrings and more.  Fusing is a technique of controlled melting to join metals together.  No solder necessary.
Fusing is accomplished by heating two or more pieces of metal that are touching, to their melting point resulting in the pieces joining (fusing) into one piece.  This can get tricky as the metals all have different melting points.  With care you can produce all sorts of interesting textures and surfaces.
Please sign up in advance.  It is necessary so we can prepare the kits.  The class is full at ten people.  Wait list available.