April 2023
Class:  Flower Clasp, Kit cost:  $4
Class 1:  Thursday, Apr 6th, 5pm – 9pm
Class 2:  Monday, Apr 10th, 5pm – 9pm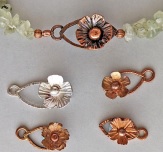 This is a simple project that we taught years ago.  It is good practice for those who were just certified as well as an opportunity for our more experienced students to get creative.  We will make two in copper and if desired you can make the 2nd in silver.  You can make this clasp in several sizes so you can make the 2nd one smaller or larger.  The cost for the class is $4.00 for both clasps in copper or bronze.  Silver will be a slight additional charge (TBD) but will be nominal since it uses very little material.  The sign-up sheet will be available during Monday or Thursday work sessions.  You may also register by sending email to HGMS@wildivystudio.com. 
If more than 10 people per session sign up for the class, those on the wait list will be notified via
email or text prior to the class if space becomes available.  If you have signed up for the class
and cannot attend, please be considerate and notify the instructors as soon as possible so
that someone on the wait list can attend in your place.
Certification/Safety Classes:  The next Certification/Safety Class will be Monday, April 17 – Note date change!  Please send your name and contact information (name, email address, and cell phone number (for text messages) to Certifications@wildivystudio.com to get on the list for the next Certification Class.  The class is almost full so send your request soon.  Seats will be filled in the order I receive them.  If you end up on the wait list, you will be added to the next scheduled class which will probably be in June – the date is TBD.
CERTIFICATION CLASS INFORMATION – PLEASE READ CAREFULLY:
After Certification Class dates are set, email notices with information about the class(es) will be sent to everyone who is currently on the request list about a week before the scheduled date.  You must reply to that email to be scheduled for the class or to request a future class.  One reminder email will be sent to those who do not respond to the first email.  If there is no reply after the 2nd email, your name will be removed from Certification Requests list.  If you are still interested in in Certification, you will have to send in your information again to get on the current list.
Schedule:  The Metalsmithing classes and open studio meet on Monday and Thursday evenings from 5:00pm – 9:00pm, and the first Saturday of the month from 9:00am – 3:00pm.  Jan's class is ongoing, meeting at 9:00am on Mondays.
Facebook Users:  The Metalsmithing class has our own page in Facebook groups.  You can see info on classes, examples of project classes and other general information.  Members of the group can post their finished class projects.  Our class page is HGMS Metalsmithing Group.  The link: https://www.facebook.com/groups/438777169648170