The next class is 2 sessions Thursday, February 4th and Monday, February 8th:  Charm Bracelet/Necklace.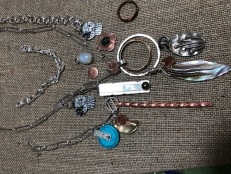 Skills:
Soldering!  Soldering!  Soldering!
Design and planning
Using the Pepetools Jump Ring Maker
Using the acetylene torch
Chain making
Finishing
Fabricate a Sterling Silver paper clip chain and clasp.  In addition, make three to five charms in various mixed metals with or without stones.  Several types of chain will be demonstrated but for this project we will make the paper clip chain.
Examples of charms will be provided but students are strongly encouraged to use their imaginations and their own designs.  This class will take more than the standard three hour time frame.  As always, students will be able to use open studio time to complete their project.
Kits are available for $10.00 or use your own material.  You'll need 18 g round wire.  Kits will include enough silver to make 8" of chain and a clasp.  Base metal sheet and wire are included.  You may also choose one stone or bead from an assortment.  Extra silver will be available for purchase if you wish but isn't required to complete the project.
To register for this class, send email to HGMS@wildivystudio.com.