October/November 2023
Meeting Times:  The Metalsmithing classes and open studio sessions meet on Monday and Thursday evenings from 5:00pm – 9:00pm, and the first Saturday of the month from 9:00am – 3:00pm.  Jan's class is ongoing, meeting at 9:00am on Mondays.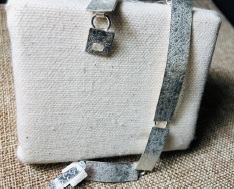 Class:  Panel Bracelet.  This is not a beginner class.  You will design a panel bracelet in October and fabricate your design in November.  We'll be using the acetylene torch.  Some of the pieces will be small and fiddley, but very doable with some patience.
October:  Please note the schedule change due to the Show.
Class 1:  Monday, October 2nd
Class 2:  Thursday, October 5th
We'll provide a worksheet and templates to get you started.  The example in the photo has been purposely left blank, unadorned.  This is your starting point.  You'll need your imagination to come up with design elements for the panels.  Things to consider along the way are design viability, wearability, cohesion of the elements, materials and cost.  Questions will be answered and advice given during our regular open studio hours.  Paperwork for this class may be picked up on October 2nd or 5th, and cost is $1.00, which covers printing.  Please finalize your design by October 23rd so Shelley can order necessary materials.
November:
Class 1:  Thursday, November 2nd
Class 2:  Monday, November 6th
This month you'll fabricate your design!  We'll also learn a new type of connection and a new style of clasp.  Cost will depend on the materials used in your bracelet.
The signup sheet will be available on Monday and Thursday night classes and at the monthly HGMS meeting.  You can also sign up by sending email to HGMS@wildivystudio.com.  There are 9 places in each session for a total of 18 places.
If you sign up for the class and cannot attend, please be considerate and notify the instructors as soon as possible so that if someone is on the wait list they can attend in your place.
Certification/Safety Classes:  The next Certification/Safety Class has been scheduled for Monday, September 25th.  Please send your name and contact information (name, email address, and cell phone number (for text messages) to Certifications@wildivystudio.com to get on the list for the class.  The class fills early, so send your request soon.  Seats will be filled in the order I receive them.  If you end up on the wait list, you will be added to the next scheduled class.  Certification classes are scheduled approximately every other month.
CERTIFICATION CLASS INFORMATION – PLEASE READ CAREFULLY:
After Certification Class dates are set, email notices with information about the class(es) will be sent to everyone who is currently on the request list about a week before the scheduled date.  You must reply to that email to be scheduled for the class or to request a future class.  One reminder email will be sent to those who do not respond to the first email.  If there is no reply after the 2nd email, your name will be removed from Certification Requests list.  If you are still interested in in Certification, you will have to send in your information again to get on the current list.
Facebook Users:  The Metalsmithing class has our own page in Facebook groups.  You can see info on classes, examples of project classes and other general information.  Members of the group can post their finished class projects.  Our class page is HGMS Metalsmithing Group.  The link is: https://www.facebook.com/groups/438777169648170