The next class is 2 sessions:  Thursday, April 1st, and Monday, April 5th:  Touch Fired White Enamel Pendant.  Both sessions 5:30p-9p.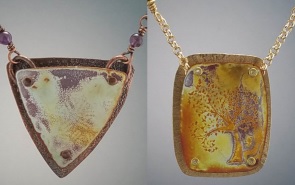 This is a fun and easy project.  The process is a bit messy so be sure to wear an apron or old clothes.  We will be preparing a texture copper shape, dipping it in white liquid enamel, and firing it with a butane torch.  We will be using a special white enamel powder mixed with water that will react with the metal and the heat of the torch to form different colors.  Any etched or roll printed pattern on the metal will show through as a slightly different color to create interest.  In the example pictured, one enamel piece is green and purple, and the other is yellow and orange.  This is a "free form" project.  The colors you get will depend on how you apply the heat and for how long!  We will be making a riveted pendant with the completed shape.
To register for this class, send email to HGMS@wildivystudio.com.  Let us know what day you prefer to attend.  If you can come either day, indicate that as well so we know you will be able to change days if we need to balance the number in the class.  If the date should change those who sign up for the class will be notified.
IMPORTANT!  CURRENTLY CLASS SIZES ARE LIMTED TO 6 STUDENTS PER SESSION.  YOU MUST PRE-REGISTER FOR CLASSES BECAUSE OF THE LIMIT ON THE NUMBER OF STUDENTS.  YOU WILL NOT BE ASSURED A SEAT IN THE CLASS IF YOU SHOW UP AT THE DOOR!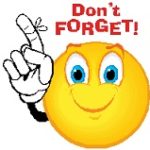 All Metalsmithing meetings are every Thursday (and the following Monday) of the month in the Metalsmithing room in the new Huntsville Gem and Mineral Education Center, 7901 Bailey Cove Road SE, Huntsville.  Please enter the South parking lot from Bailey Cove Road SE, and enter the center through the glass double doors.