The next class is December 5th:  Colored Pencil on Copper.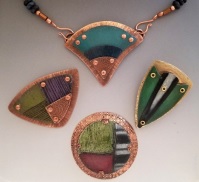 Colored pencils are a great way to add color to jewelry.  In this class we will be using Prismacolor Premier pencils to draw and color on copper.  We will not be making a finished piece of jewelry in this class but will concentrate on learning to prepare the copper to accept the pencil, applying and blending color, and sealing the piece during and after coloring.  We will talk about various methods you can use to transform your piece into finished jewelry with cold connection methods such as rivets and tab setting and what you need to do during preparation to set the piece later, but we will not do any setting in this class.  Shelley and I will help set your piece with cold connections during work sessions if you need help.  If you have a set of Prismacolor Premier pencils, please bring them with you to class.  Kit cost is TBD.
This class does not involve "fire" so will it be open to members who are not safety certified if space is available.  If we have a large wait list we will repeat the class Monday, December 9th.