The next class is March 5th:  Forming a Neckwire.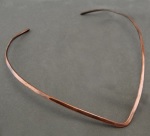 We had a request to repeat this class since last time this was offered was June 2017!  We have had many new people certified since then.  We will be making two neck wires during the class.  One in 10 gauge copper and the other in 12 gauge brass or bronze (your choice).  We will have several examples of the various styles.  If you have sensitive ears please bring some ear plugs—we will be doing lots of hammering!
The Kit cost is $3.00.  The sign up sheet will be available at the HGMS meeting and during Monday or Thursday work sessions.  You may also register by sending email to HGMS@wildivystudio.com.  This class will be open to those who have not been certified on a space available basis since it is forming class however registration preference will be given to those who have been certified.  Annealing wire might be necessary if so, the instructors can do this for you if you have not been safety certified to use our torches.
In the event that more than 10 people sign up for the class, those on the waitlist will be notified via email or text prior to the class if space becomes available.  If there are more than 5 people on the wait list we will try to schedule a 2nd class and those on the waitlist will be notified.  If there are not enough people for a 2nd class, those on the waitlist can purchase the kit and work independently on work session nights.  Instruction and help will be available if needed.
Because of space limitations and tool availability, only those registered for the officially scheduled class can attend that night unless given prior approval by an instructor.  If you have signed up for a class and can not attend, please be considerate and notify the instructors as soon as possible so that someone on the wait list can attend in your place.