The next class is November 5th and 9th:  Shadow Box Pendant.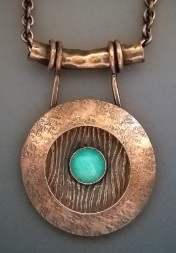 We will be making a shadow box pendant.  This is an intermediate/advanced project requiring good soldering skills.  If you have a calibrated round 8 or 10 mm stone you want to use for your shadow box, we will have bezel cups in that size available.  If you want to use another stone in the 8 to 10 mm size that will not fit into a premade bezel cup, you will have to construct the bezel setting.  The kit will include an 8 mm round stone and a cup.  Using the cups will make the project simpler.  The example pictured is only one style of shadowbox.  We will have several examples of different styles if you want to make a different style later.  The cost for the kit is $7.00.
Class Session 1: Thursday Nov 5th
Class Session 2: Monday Nov 9th
IMPORTANT!  YOU MUST PRE-REGISTER FOR CLASSES BECAUSE OF THE LIMIT ON THE NUMBER OF STUDENTS.  YOU WILL NOT BE ASSURED A SEAT IN THE CLASS IF YOU SHOW UP AT THE DOOR!
To register for this class, send email to HGMS@wildivystudio.com.  Let us know what day you prefer to attend.  If you can come either day, indicate that as well so we know you will be able to change days if we need to balance the number in the class.  If the date should change those who sign up for the class will be notified.
Sign up sheets will also be available during Monday and Thursday work sessions.  There is a limit of 5 students per session.  When you sign up you may choose a specific session however if you are flexible and can attend either session let us know.  This will help us balance the number in each session.  You will be notified by Tuesday Nov 3rd which session to attend.
We are looking forward to seeing everyone again!