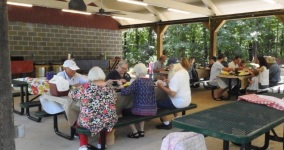 This year's Picnic and Rock Swap will be Saturday, June 25th at the "Trailhead Pavilion" in Monte Sano State Park, 5105 Nolen Ave SE, Huntsville, AL 35801.  We'll start gathering at 10am, and lunch will be delivered at 11:30am.  We usually wrap up about 3pm or 3:30pm., but park hours are 8am – 5pm, so you're welcome to arrive early and/or stay after to enjoy the park.
FREE PARK ADMISSION:  Tell the gate attendant you're with Huntsville Gem & Mineral Society or HGMS, and you won't be charged park admission fees.  (But you're welcome to make a donation at the gate.)
DIRECTIONS:  The Trailhead Pavilion is located at the Biker Trailhead near Cabins 1-5.  Enter the park on Nolen Ave off Monte Sano Blvd.  Stay on Nolen Ave, then bear to your right just before the Park Campground Store.  Continue on Nolen Ave past the Trailhead Parking area on your right.  Then turn left onto Cabin Drive SE, and you'll shortly see the pavilion on the right.  Turn right and park in the Biker Trailhead Parking area.  GPS 34.7441989,-86.5085011 or 340 44' 39.05", 860 30' 28.92"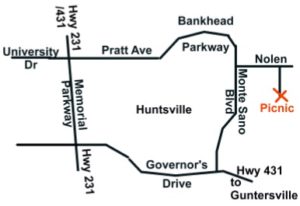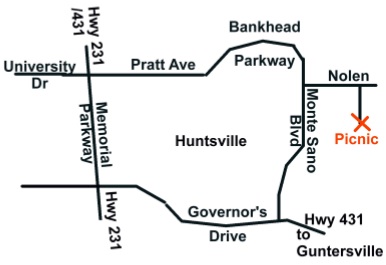 LUNCH:  We will enjoy good food, great fellowship, and a wonderful location in the historic Monte Sano State Park, Hiker's Pavilion, high atop Monte Sano Mountain.  HGMS will provide the meat and accessories, members will provide potluck – casseroles, salads, desserts, etc.  Please bring your own drinks (non-alcoholic).  Guests are welcome to join us!  RSVPs requested.
SWAP AND SALE:  Members are invited to bring and sell or swap their treasures (rough, display specimens, gems, jewelry, cabochons, and so on) with no fee collected by the club.  Bring cash or check to make purchases.  Any proceeds will be your own.  You'll need to bring your own chair and portable table for displaying your wares.
AMENITIES:  There will be tables and benches under the Pavilion, and you're welcome to bring your own chair(s).  There are restrooms in the back of the pavilion and a kids' playground under shade trees.   Caution:  There's poison ivy at the park, and you'll likely want to have bug repellent and sunscreen!