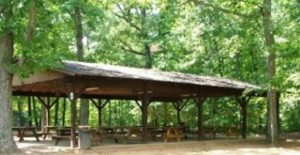 This year's Picnic and Rock Swap will be Saturday, June 20th at the large Pavilion in Monte Sano State Park (see map below).  You can make a donation at the park entrance, but there won't be an extra entrance fee.  The picnic will start at 10a.m. and wrap up around 2p.m.  Guests are welcome to join us!
The club will provide meat and everyone is asked to bring a dish to share.  Be sure that your dish is picnic friendly.  If your dish needs to be kept cool, please use an ice chest – there won't be a refrigerator or a microwave.  The club will also provide drinks, plates, napkins, etc.
There will be tables and benches under the Pavilion, and you're welcome to bring your own chair(s).  There are restrooms and a kids' playground under shade trees.
Members are invited to bring your rocks, etc., for swap or sale, and bring cash or check to make purchases.  This is a good opportunity to swap or sell your wares and to purchase new items.  But this isn't an HGMS fundraiser.  There won't be a fee to sell your items, and any proceeds will be your own.