The next Chainmaille Samples session is May 15th.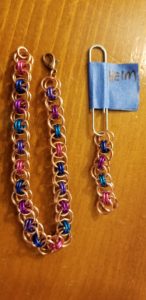 The weave is Helm's weave.  The kit is $5.00.
Note:  We'll make a bracelet AND a sample for the next few sessions because the weaves are simple but easy to forget… so we'll go ahead and finish a bracelet!!!
Please RSVP to Judy by May 10th.