The next meeting is August 15th:  Steven C. Minkin Paleozoic Footprint Site.
(Due to a scheduling conflict, the August meeting is the 3rd Thursday, not the 2nd Thursday.)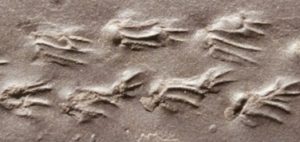 John McCullough will discuss the Steven C. Minkin Paleozoic Footprint Site, one of Alabama's greatest natural resources, located in Walker County.
Photo Source:  Professor Ronald J. Buta, University of Alabama
The following excerpt is from http://www.encyclopediaofalabama.org/face/ArticlePrintable.jsp?id=h-1371:
"The Steven C. Minkin Paleozoic Footprint Site in Walker County is the most prolific source of vertebrate trackways of its age in the world. It is an important resource for scientists for a number of reasons: the fossils found within it are well-preserved, abundant, and diverse, and thus scientists can study multiple examples of a given species or behavior; the deposit records the footprints of some of the earliest reptiles; and it contains the oldest known examples of fish schooling and group behavior of tetrapods. The site is named for the man who led the effort to preserve the site."
The GeoSciences activities group meets the 2nd Thursday of the month from 6:30p.m. – 9p.m. in the Cafeteria (along the same hall as the Merrimac Room) in the Senior Center.  Meetings and field trips are open to all HGMS members.
Attendees of this group are interested in geology, mineralogy, paleontology (fossils), and Indian artifacts, plus lapidary, jewelry and field trips.