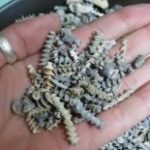 The Fossils and Geology Specialty Group is up and running!  On February 7th, 21 enthusiasts gathered to kick off this new project.  Attendees ranged from new to the topic to ready to give excellent talks for future meetings.  Bill gave a short program on the Geology of Monte Sano and on Using Index Fossils to Date Rocks.
The original vision had been to create two separate groups – one for fossils and one for geology.  But most of the attendees at the kick-off meeting were equally interested in both topics, plus lapidary, jewelry and field trips.   Indian artifacts was also mentioned as an area of interest.  We are working on how to address everyone's interests with as little overlap with other programs as possible.
The next meeting is March 7th at 6:30p.m. in the Paint Room (next to the Lapidary Shop) at the Huntsville-Madison County Senior Center.  The meetings and field trips are open to all HGMS members.
(Pictured are samples of Archimedes, corkscrew-shaped Bryozoans that lived from the Carboniferous period to the Permian period.)