by Bradford M. Smith
Bench Tips for Jewelry Making and Broom Casting for Creative Jewelry are available on Amazon.  For those who enjoy these bench tips, I'm happy to announce a second volume is now available on Amazon.  More Bench Tips includes 86 additional ways to save time, avoid frustration or improve quality at the bench.  These new tips cover problems in fabrication, stone setting, casting, soldering and polishing.  Browse through a couple of the new ones at https://amazon.com/dp/B07D4B45JJ/.
SETTING A RIVET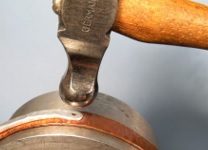 Riveting is usually done with a cross peen hammer, but I've found it's a lot easier for me to hit the rivet wire when using a small ball peen – and the smaller the better.  Shown here is one I typically use.  It's about 3/8 inch diameter on the back of a chasing hammer, but I've been thinking that a 3/16 inch ball might be even better.  Look for a yard sale hammer you can modify to work.
SHEET WAX WITH ADHESIVE
While shopping in the Los Angeles jewelry district for supplies for our class, I found a new product that may interest some of you.  Often before casting, I want to increase the thickness of a model by adding a layer of wax on the back side.  For instance, models like a leaf or a flower petal do not cast well unless you add a little extra thickness.  The problem is trying to apply a coating of wax that's smooth and even.
The new product I found is an easily moldable sheet wax with an adhesive coating.  This lets me easily add thickness to a very thin model.  With a leaf, just press it onto the wax, trim excess wax around the outer edges, and then gently bend the sandwich to the contour you would like.  The wax is available in a number of different thicknesses from about 26 ga to 14 ga.  If interested, my supplier is Jewelry Tools & Supplies 412 W. 6th Street #1011, Los Angeles, CA 90014, 213 624-8224, jtstech@sbcglobal.net.
Note:  Brad is a regular contributor to the HGMS newsletter.  He has published a series of books for creating jewelry including Bench Tips for Jewelry Making:  101 Useful Tips from Brad Smith, Accessories for the Foredom and Dremel for Jewelry, Making Design Stamps for Jewelry, Broom Casting for Creative Jewelry and Metalwork, and his latest, More Bench Tips for Jewelry Making.  Check the Book category at https://www.amazon.com.  See also www.BradSmithJewelry.com.