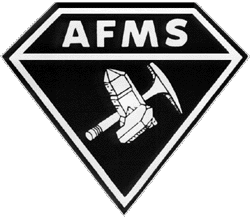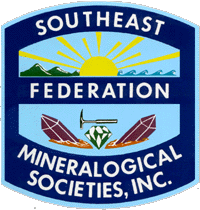 You're invited to the combined American Federation of Mineralogical Societies (AFMS) and Southeast Federation of Mineralogical Societies (SFMS) Annual Meetings September 18 – 22, 2013 hosted by Jacksonville Gem and Mineral Society (JGMS) in Jacksonville Florida.
Here's some information from the AFMS about the meetings:
Lodging:
AFMS, SFMS, ALAA and all federation meeting will be hosted at the Jacksonville Marriott in the Mayport/St. Johns room. This is a beautiful double joined room convenient to restrooms, the Hotel's Restaurant and Bar. The Hotel is located at:
4670 Salisbury Road
Jacksonville, FL 32256
904-296-2222 or 1-800-962-9786
If you mention you will be attending the AFMS meeting, you can get the special $82 room rate. The offer expires August 5, 2013. This special room rate will be good for up to 10 days.
Events:
AFMS Uniform Rules – Wednesday September 18th at 7pm
AFMS Annual Meeting – Thursday September 19th at 9am
AFMS Scholarship foundation- Will be held immediately after the AFMS Annual Meeting
You are invited Thursday Night to Hanna Park at the beach for a special Stargazing event and picnic with the Northeast Florida Astronomy Society. NEFAS members will have Telescopes set up to view the heavens (Saturn will be spectacular!).
There will be a free cook out picnic provided by the JGMS Host society.
JGMS Annual Show and Sale – Friday September 20th at 1pm.
Heavens and Earth Lecture event – Friday September 20th from 9am to 4pm. The lecture will include some of the nation's top authorities on Meteorites and regional paleontology. The lecture will be held in conjunction with the JGMS annual show at the Morocco Temple from 8am to 4pm with an hour for lunch.
SFMS Cracker Barrel Meeting – Friday September 20th at 7pm
SFMS Annual Meeting – Saturday September 21st at 9am
ALAA Meeting – Saturday September 21st at 2:30pm
Awards Banquet – Saturday September 21st at 6pm
Editors and Webmasters Breakfast – Sunday September 22nd at 9am
Wildacres Retreat: Lapidary classes and AFMS Judging class September 23rd, the week after the Annual meeting
The SFMS would like to invite all members of the AFMS to attend our workshop being held at Wildacres in NC starting September 23rd, just after the AFMS Annual Meeting. Jay Bowman will be teaching a Judging and Exhibiting class. Since the AFMS judging class had to be cancelled this year, the SFMS has guaranteed this class will not be cancelled. All of our other classes are also open to AFMS members. Wildacres is a beautiful retreat off the Blue Ridge Parkway. It is only available for use by non-profit organizations.
The cost is $350 for the week, plus supplies for the class. Class times are 9:00 to 12:15 and 1:30 to 5:00 Tuesday thru Saturday, with Thursday afternoon off. In the evening, relax on the patio, or enjoy evening activities such as a campfire, weather permitting. One evening during the week we hold a live auction to help raise money to support the workshops.
Here is the link to the SFMS Workshop website.  Bedroom space is limited. If you are interested, please contact the Wildacres Registrar, BJ Gearhart 631 Lake Overlook Dr Canton, GA 30114-6887 770-479-0963 or email BJ at waregistrar2013@gmail.com