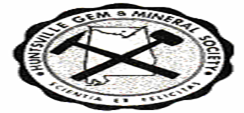 The Huntsville Gem & Mineral Society (HGMS) is a non-profit educational organization for people interested in mineralogy, geology, paleontology, and related lapidary arts. Its primary purpose is the education of the members and the general public in these areas. This purpose is accomplished through programs, shows, lectures to school children and organizations, and exchange of rocks, minerals and artifacts.The Huntsville Gem and Mineral Society (HG&MS) was organized in 1958 by a small group of people who were interested in the lapidary arts. The Society was officially incorporated in Alabama in 1965 as a non-profit educational organization. In 1961 the organization consisted of 15 members. At present we have around 150 members.
This Society is affiliated with the American Federation of Mineralogical Societies and the Southeast Federation of Mineralogical Societies.
Regular Activities:
The Society's regular monthly meetings are scheduled for the fourth Tuesday of each month. Meetings are held at the Senior Center, located at 2200 Drake Avenue in Huntsville. Fellowship time begins at 6:00 p.m. At 6:30 p.m. the monthly program is presented followed by a short business meeting. The program is educational in nature, with members or special guests presenting information on a wide variety of topics of interest. Members are kept informed of local and national lapidary news through this website and a monthly newsletter. These will publish lists of upcoming meetings, shows and field trips so members may plan to attend. The newsletter will also have information and articles related to the hobby in general.
Special Activities:
Society members go on field trips to find rocks, minerals, fossils or to visit related industries. Field trips are scheduled on an occasional basis, depending on what locations are available. Most trips are same-day, but there may also be over-night trips.
Each fall, the Society hosts the Huntsville Rock, Gem and Jewelry Show. Members help by chairing or working on such activities as publicity, set-up, hospitality, take-down, and school tours. Members also participate by putting together educational displays or by working in the demonstration areas. Getting to know other members better is one of the benefits of working on the Show.
An Auction is held in the Spring to raise money for the Society. The public is invited to this event. Members bring specimens, slabs, finished jewelry, lapidary equipment and rough or polished stones that will be of interest to others. Good pieces to add to a collection can often be obtained at the auction.
Fellowship is the main goal of the June picnic and also the December Dinner. Held in place of the regular meetings, these events are usually pot luck dinners, which encourages members to visit and get to know each other better.