The next regular monthly meeting is September 25th, 2018 at 6:30p.m. at the Huntsville-Madison County Senior Center, 2200 Drake Avenue.   Get there early to "meet and greet" members and visitors!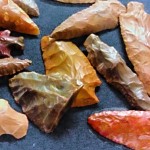 Our guest speaker will be Mr. Jerry Dickey who will present "Prehistoric Indian Cultures and the Archaeological and Market Value of Artifacts."  He is a past President of his local chapter of the Tennessee Archaeological Society, and he holds a B.A. in Anthropology that he earned in 1982 from the University of Tennessee.
Mr. Dickey has spent a lifetime researching prehistoric Native American cultures of the Eastern United States including many years' experience in field archaeology.   He has spent the last 19 years in the collector community traveling to shows, museums, and seminars in the Southeast and the Midwest studying artifacts on a regional basis and serving as an authenticator of Native American artifacts for the public.