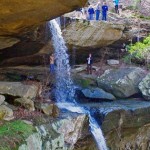 Hey Pups ready for another field trip?  Well we have a great one for you. We will be going to Cane Creek Canyon Nature Preserve on May 23rd, 2015 and our host will be Dr. Jim Lacefield.
Here is the information from Dr. Lacefield:
1. We can begin with a quick look at our rock garden in front of our house. I'll show you examples of each of the major rock "families" and how they form and some of the main types of fossils we have here in the Tennessee Valley. As part of this introduction I'll show you the examples of the different types of colorful Cretaceous pebbles they will be seeing on the gravel bars in Cane Creek, including types of agates, jaspers, and petrified wood.
2. We will take a "rock hike" down to Cane Creek to see the ancient barrier island Hartselle Sandstone layers that form the canyon, waterfall ledges, and rock shelters and then we will spend some time collecting the various Cretaceous quartz varieties down on the creek gravel bars. This hike will be done leisurely, but it will involve about 350 feet of elevation change (it's a real hike; and parents need to know about this in advance in order to help get the kids psyched up for it). Each participant will need a collecting bag or small back pack, drinking water, and snacks. The kids will be allowed to keep all agates, etc., that they find in the creek. These stones will be "pre-tumbled" by the creek and require only minimal polishing to be quite beautiful.
3. When we get back to the house we will go on a "fossil hunt," carefully splitting open some fossil plant-rich shale I have brought back from a coal mine near Jasper for the kids to open and learn about the techniques of searching for fossils in this type rock material. All fossils from this activity may be kept.
The total time for these activities will be about 4-5 hours, but of course, those who need to leave early can do so. I just want to say that this is a Pebble Pup tour, but any and all members of HGMS are more than welcome to join the field trip for a wonderful day in nature (with a little rock hunting on the side). Any one joining us on the field trip needs to remember that this is a Preserve and we cannot remove anything except what Dr. Lacefield allows us to remove. So ask before you pick a flower, put a rock in your bag or bucket, or take a bug home for a pet. The word Preserve means to leave things as they are, for the next tour to enjoy as you have. If you want to get a first peek, go to "Friends of Cane Creek Canyon Nature Preserve" Facebook page for more information and many photographs about the preserve.
Okay now we need some Pup rules: 1. Pups you have to have a parent tag along on the tour. Who knows they might enjoy it and learn something. 2. On the tour you will need to stay with the group, as there will be hazardous areas in the Preserve you can get hurt. If you cannot stay with the group we maybe ask to escort you back to Dr. Lacefield's house. So stay with the group and enjoy the tour. 3. We will be on the creek and I know there will be the Pup/s that want to see how deep the water is. Please bring an extra set of clothes if the water is to deep. Be careful near the water. Now would be a good time to tell you how to get there. I have a pdf document with direction that I will have to figure out how to post. We will meet at 8 am at Ingalls Harbor parking lot (I have it marked on the map and directions) across the bridge in Decatur. I would like to leave no later than 8:15 am. That will put us at the Preserve around 9 am. That would put us leaving between 1 and 2 pm. If you would like a copy of the directions go to the webpage and get my e-mail address and send me a request. If there is more information forthcoming I will post it as I get it. One last thing, for you to go on the field trip you have to be a Pup and your parents must be a member. This way the club's insurance will cover you.
Contact Brian Burgess,  HGMS President and Pebble Pups Chairman via email Bburgess771@gmail.com for any further questions.
Directions: