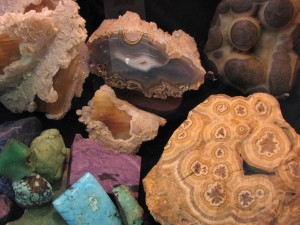 Every December our meeting is a Christmas/holiday dinner instead of our regular business meeting. We will have a caterer bring in some great food for us to enjoy, then we can eat, mingle, and talk about rocks, gems, jewelry, and fossils! This year our Christmas dinner will be Tuesday, December 17 starting at 6:00. The dinner menu includes a salad, baked ham and baked chicken, baked potato, green beans, dinner rolls, apple cobbler, and a variety of drinks. We welcome and encourage visitors to join us for this dinner!
The cost to cover the catering is $13 per person. If you're interested in joining us for the dinner, you need to make reservations so the caterer can bring the correct amount of food. You can make a reservation at our next meeting on November 19. If you would like to attend the dinner but can't attend the November meeting, please contact Lowell Zoller at Lzol (at) comcast.net. The club pays for each meal we order. If you make a reservation but then cannot come, we would appreciation your contribution to cover the costs.
To have a bit of fun at the dinner, we have an optional gift exchange related to our hobby. Examples of gifts people bring include gem and mineral specimens, fossils, pieces of jewelry, or slabs for lapidary work. As a suggestion, bring something between the $10 and $20 range. Wrap up your gift or put it in a gift bag and make a note on the box or bag if the gift is for men or women only. For example, if your gift is a bolo tie, just write "Man" on the box. Or, if the gift is a wire-wrapped pendant appropriate for a woman, write "Woman" on the box. If it's gender neutral, like a box of beautiful rocks, you don't need to write anything on the box! Only those who bring a gift participate in the gift exchange.
The December meeting is a fun way to kick off the holiday season and we hope to see each of you there!