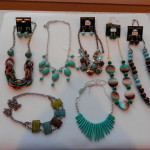 Event:   Mayflower Craft and Vendor Event
When:   Saturday, 2 May 2015
Time:     10:00 a.m. – 3:00 p.m.
Location: Bry-Lee's Variety  & Thrift Shop, 7051 Hwy. 36E, Laceys Springs, Alabama 35754
Linda McKinney, a HGMS member and active participant in our Jewelry Activity group will be showing her artistic jewelry creations to include her wire-wrapped lapidary arts at the Mayflower Craft and Vendor Event.  Linda will be demonstrating and teaching Tutorial #5 on Intermediate/ Advanced wire-wrapping on 5 May 2015. More information will be added soon.  We are all excited to see her artistry and super excited to attend her tutorial.