"Restless in Alabama" presented by Lowell Zoller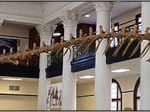 On 26 May 2015, Lowell Zoller will address the geological and fossil history of Alabama as well as the southeast. The program will concentrate on what you might and might not find in our State of Alabama. The presentation will be at the Huntsville Senior Center on 2200 Drake Avenue at 6:30 p.m. This presentation is one you won't want to miss so get your seat early!
Mr. Lowell Zoller majored in chemistry, physics, and nuclear physics at Purdue University and the University of Minnesota. After working on a project for the Atomic Energy Commission and the USAF, he became a part of the Von Braun team at the start of the Apollo Program in 1961. At the Marshall Space Flight Center, Mr. Zoller was active in all of the center programs, managed development and production projects, was assigned to Germany as Advisor to the European Space Agency, and at retirement in 1995 was the Associate Director of Science & Engineering. Among his avocations, geology and paleontology are more "down to earth", and he has been a member of the Huntsville Gem and Mineral Society since the early 70s, serving as an Officer numerous times. Mr. Zoller frequently gives presentations and teaches classes for local groups and schools on these subjects.   He prepares and oversees the Rock, Mineral, and Fossil segments of the annual UAH Science Olympiad for Middle and High Schools. He and his wife Betty are avid Rock Hounds, and have acquired a substantial collection, which, in part, has been displayed at various public venues.   He and Betty are active in church and civic organizations.   He serves as a docent at the U.S. Space & Rocket Center, and is on the Board of Directors of Burritt on the Mountain Museum, being active in their educational programs.
Looking at the pictures below, where, if at all, might You find these items in Alabama?