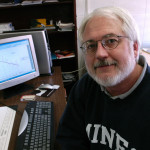 On 22 September 2015 Dr. Richard Statom will present "Geology of the Tennessee Valley with an emphasis on Mineralogy and Petrology.".
Dr. Richard Statom is an Assistant Professor of Geology at University of North Alabama (UNA). His education includes a Bachelor of Science from University of South Alabama, a Master of Science from Mississippi State University, and a Ph.D. from the Colorado School of Mines. Dr. Statom's research focuses on hydrogeology, especially water resources, groundwater pollution and remediation, and environmental concerns from landfills. Dr. Statom teaches Earth Science, Physical Geology, Mineralogy, Petrology, Hydrogeology, Meteorology and Environmental Science.
The Huntsville Gem and Mineral Society will  start the meeting at 6:30 p.m. at the Huntsville Senior Center.