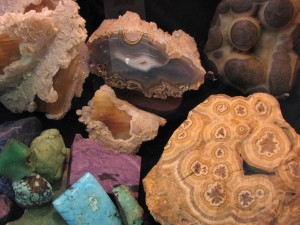 Mark your calendars for the 2014 fundraising auction! Every year, the HGMS sponsors a fundraising auction that allows our members and our guests to bid on a wide variety of gems, minerals, jewelry, lapidary tools, books, magazines, and much more!
The Auction is our largest fundraiser of the year and helps us purchase supplies and equipment to maintain our lapidary shop and also provides funds for our other outreach and educational projects throughout the year. Everyone is invited to join us!
Here's a flier that we're distributing to help get the word out about the auction. Please print out a few copies and hang them up at your church, favorite restaurant, or local stores. Thanks for your help!
And here are details about the auction:
Where:  Huntsville Senior Center Cafeteria (come in the front door)
Who: Everyone is welcome! You do NOT need to be a senior citizen to attend or to participate!
How Much: Admission is FREE!
Date:  April 29, 2014
Time: You can register and start looking at items at 5:30 p.m.
 The auction starts at 6:30 pm