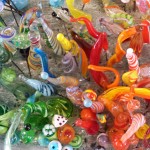 Deb Neis will be demonstrating how to make glass beads with a lapidary twist on 31 March 2015, 6:30 at the Lapidary in the Huntsville Senior Center.  Deb Neis has numerous years experience in jewelry creation and design as well as other arts.  In fact she has published art works in art magazines and newspapers.  This will be a real treat to see Deb fire up the torch and show her artistic skills!
31 March 2015: Deb Neis will be giving us a demonstration on how to make a glass bead that will accompany our lapidary creations. Thank you Deb!
7 April 2015: Free form /finishing tutorials
14 April 2015: Wirewrap with Julie Eve.  Reserve your kit now.  Posting in news section and jewelry activity.  Thank you Julie.
21 April 2015: Free form/finish tutorials
28 April 2015: HGMS Auction