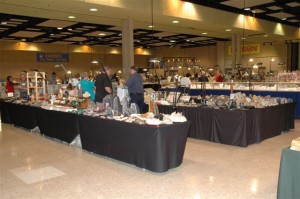 Each year, the Huntsville Gem and Mineral Club hosts the Rock, Gem & Mineral Show at the Von Braun Civic Center. This year from October 11-13 will be out 45th Annual Show! This show is the LARGEST jewelry and gem/mineral show in north Alabama and southern middle Tennessee!
We will have:
Fine Gold/Silver Jewelry, Opals, Diamonds,  Loose Gems Stones, Crystals, Minerals, Fossils, Beads, Carved Stones, Lapidary Supplies, Displays/ Demonstrations, Children's Gem Dig, Mining Flume (panning), and more.
Between 34 – 36 Dealers from around the country plan to attend.
For more photos and information, check out: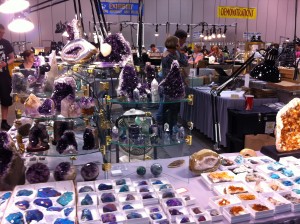 VOLUNTEER!
Are you a member of the HGMS? If so, we need your help for the show! Please Volunteer to help out sometime between the set-up day on Thursday and the end of the show on Sunday. Contact Lori Wilhoite to sign up for a time slot.
Location:
South Hall of the Von Braun Center in Huntsville, Alabama (700 Monroe St SW  Huntsville, AL 35801)
October 10 will be the setup day for dealers and for HGMS club activities. Setup starts at 7:30 a.m. We will need volunteers! If you can help out, please contact Lori Willhoite at lewillhoite (at) hotmail.com
October 11 & 12:  10 AM to 6 PM
October 13:   Noon to 5 PM
Admission:
$3 donation at the door – children under 5 free
Point of Contact:
Show Chairman: Tony Smith, tonysmith1976 (at) ymail.com, 256-603-3095
Show Vendor Chair: Marcia Stone, mkstone50 (at) knology.net  256-653-4744
Show Volunteer Coordinator: Lori Willhoite,  lewillhoite (at) hotmail.com, 256- 340-3448
Show Publicity: Jennifer Pinkley, 256-714-7980 or pinkleyj (at) gmail.com.
Here are some pictures from past shows. Come and join us for the fun!