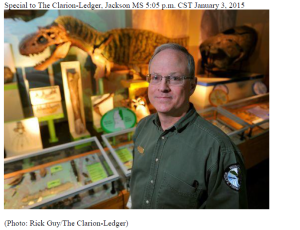 George Phillips will be making his presentation on 17 November 2015 at the Huntsville Senior Center, 2200 Drake Avenue, Huntsville, Alabama. Mr. Phillips is the Paleontology Curator at the Mississippi Museum of Natural Science. He attended the Mississippi State University receiving a Bachelor's Degree in Geology and Biology and attended Graduate School receiving a Master's Degree at the North Carolina State University.
The program topic is on the Blue Springs fossil site between Tupelo and New Albany, MS. George states, "I will discuss the history behind the locality as well as its geological and paleontological significance. Nearly a dozen species of crustacean have been previously described from the locality, but several researchers and institutions, including Kent State University, are involved in describing additional crustacean species present at this site, as well as the many other types of organisms that have been found there, including a small, partially articulated fish, the sea turtle Peritresius, echinoderms, and dinosaur remains. The Coon Creek beds exposed at Blue Springs represent a shallow, near-shore depositional environment, very likely a lagoonal area behind a barrier island complex. These sediments are about 69 million years old and are noted by their excellent preservation of crustaceans."
The HGMS meeting starts at 6:30 Central Time and the presentation begins promptly after.  Hope to see you there!