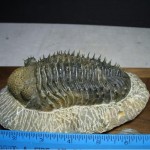 The Pebble Pups Meeting on this Thursday, 21 May 2015 at Sci-Quest located at 1435 Paramount Drive, Huntsville, AL 35806 will be featuring "Fossils" presented by Bill Friday. Bill is quite entertaining and has a number of fossils to show the kids.
This meeting will also answer any questions relating to the Cane Creek Canyon Field Trip on Saturday, May 23.
The Rock Tumbling Demo/Discussion will be rescheduled when Our Fearless Pebble Pups Leader, Brian Burgess heals from his arm surgery.