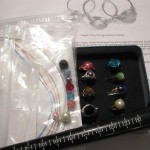 Tutorial #4
Julie Eve will do a Wirewrap Ring tutorial (Beginning Level) on 14 April 2015.  Kits are $5 and have all the materials needed to make 8 rings (a plastic ring mandrel plus 8 pieces of wire 12 inches to 18 inches long and beads (8 mm, 10mm & 12mm).  The only other supplies needed are wire cutters and flat nose pliers or bent nose pliers.  If you don't want to buy a kit bring a ring mandral, 20 gauge wire and beads.
Please get with Julie Eve if you would like just the ring mandrel at $2, or separate wires or beads.  There is colored wire, copper, brass & silver plated wire.  There is a combination of wire that is soft or half hard.
Click here for instructions:  Simple Wire Wrap ring tutorial by Lytha
You don't want to miss this one folks.  It is the beginning of learning how to wirewrap!
Schedule
7 April 2015:  Free form/finish tutorials
14 April 2015: Wirewrap ring with Julie Eve. Reserve your kit now. Posting in news section and jewelry activity. Thank you Julie.
21 April 2015: Free form/finish tutorials.
28 April 2015: HGMS Auction
5 May 2015:  Linda McKinney will demonstrate wirewrapping an Intermediate/Advanced ring.  Materials/tools list is in progress and will be announced at the 14 April meeting.
12 May 2015: Free form/finish tutorials.
19 May 2015: Facebook with Mindy Schell.  How to get started, go over Security Features, and sharing lapidary artistry information through Facebook.  Although everyone is invited to sit and watch it is most advantageous to bring your computer laptop or IPAD.  Laptop preferred.  Notepad and pen/pencil and a hotspot app on your phone if you have one.  Projector will be used for viewing.
26 May 2015: HGMS Meeting