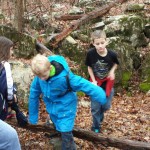 Pebble Pups  Announcement
Okay Pebble Pups, we are set. We will have our first meeting April 23rd, 2015 at Sci-Quest from 6 pm to 7 pm. We will meet every 3rd Thursday of the month after the first meeting.
Parents here are the rules we need to follow:
For your child to join the Pups you have to join the Huntsville Gem & Mineral Society. It will have to be a Family Membership which is $20.00 per year.
…
Due to the cost for having the meetings at Sci-Quest we will have to charge an extra $10.00 per year per family for your child to join the Pups to offset some of the cost.
The reason for your family joining is due to club insurance coverage.
A parent must be in attendance with the Pup at all meetings and field trips. Again due to insurance.
I will have applications for membership at the meeting. The current application does not include the $10.00 Pup fee and will have that changed for future applications.
Pups here are the rules you will need to follow:
Always be polite and courteous.
Listen quietly to the person leading the meeting.
If you have a question raise your hand.
Clean up after the meeting.
On field trips follow the instructions that are given about the field trip.
And always have a good time.
Alright the digging in the dirt begins. An adventure you will have the rest of your life finding treasures that only a select few can find. Fossils, rocks, and minerals that you can call your own. I will see you on the 23rd.