Each year, the Huntsville Gem and Mineral Society hosts the Jewelry, Gem & Mineral Show. This year from October 13-15 will be our 50th Annual Show! This show is the LARGEST jewelry and gem/mineral show in north Alabama and southern middle Tennessee!
Dates: Friday, October 13 to Sunday, October 15
Hours:
Friday, October 13: 10 am to 6 pm
Saturday, October 14: 10 am to 6 pm
Sunday:, October 15: Noon to 5 pm
This year, we will be at "The Jaycee Community Building" at 2180 Airport Road. This venue will give both our vendors and attendees some additional benefits that we think everyone will like. One thing is Free Parking! The show will also be very close to some great restaurants and shopping, so if you want to leave the show for lunch, it will be easy this year. Here's a map of south Huntsville with the new show location (the red A bubble):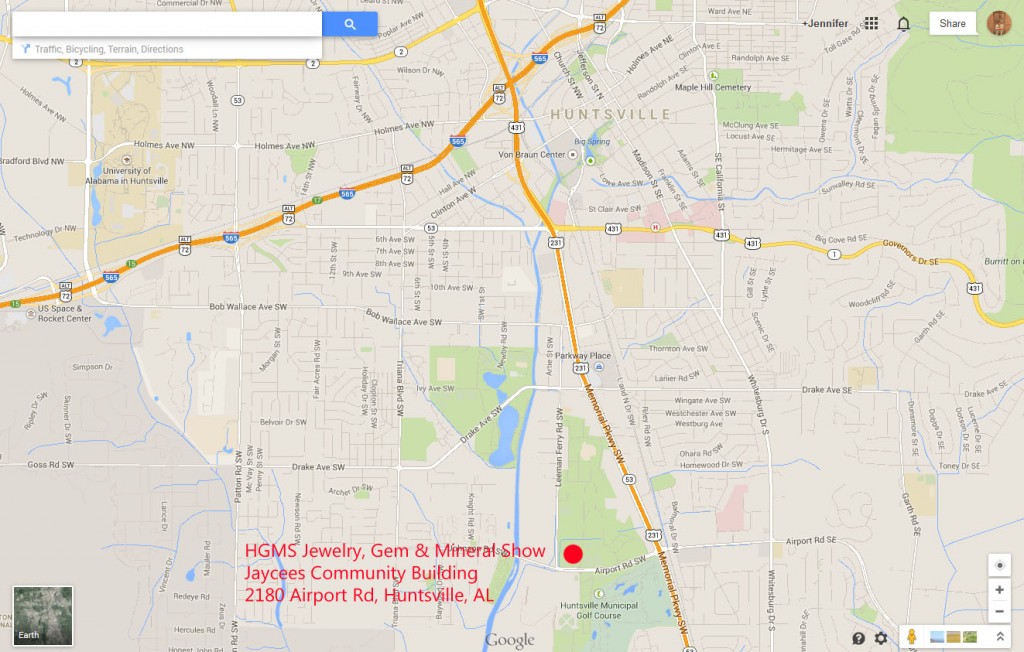 There will be about 18 Dealers offering a wide variety of minerals, crystals, jewelry, lapidary and rock-hunting supplies and more for sale.  We'll also have Displays of gems, minerals, and jewelry, Demonstrations of lapidary and related arts, and a Mining Flume for all to enjoy.  There will be a Fluorescent Room to explore and for the kids, we'll have a Gem Dig and activities based on our Pebble Pups Program.  There will also be hourly Door Prizes and Raffle Prizes to try for.
      Donations of $3.00 are requested at the door, with children under 5 free, and there will be weekend passes available for $5.00. There will still be plenty of FREE parking for everyone.  We had a great turnout last year, and we're looking forward to another Big Show this year.  So spread the word to all your friends, and come join us for a fun weekend this Fall!