About the HGMS

The Huntsville Gem & Mineral Society (HGMS) is a non-profit educational organization for people interested in mineralogy, geology, paleontology, lapidary arts and related fields.  Our primary purpose is to educate our members and the general public in these areas.  We accomplish this by presenting programs, shows and lectures (to school children and organizations); hosting field trips; and exchanging rocks, minerals and fossils.
The HGMS was organized in 1958 by a small group of people who were interested in lapidary arts.  The society was officially incorporated in Alabama in 1965 as a non-profit educational organization.  In 1961, we had 15 members.  Today, we have over 200 members.
The HGMS is affiliated with the American Federation of Mineralogical Societies and the Southeast Federation of Mineralogical Societies.
Upcoming Activities…
Fossil Collecting with Robert Langford, RPG, July 21st and August 18th, 2018
Regular Monthly Meeting, July 24th, 2018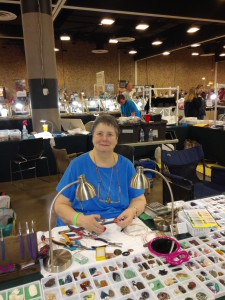 HGMS-Sponsored DMC Field Trip to Hogg Mine, July 28th, 2018