About the HGMS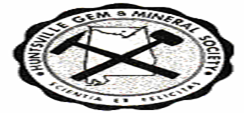 The Huntsville Gem & Mineral Society is a non-profit educational organization for people interested in mineralogy, geology, paleontology, and related lapidary arts. Its primary purpose is the education of the members and the general public in these areas. This purpose is accomplished through programs, shows, lectures to school children and organizations, and exchange of rocks, minerals and artifacts.The Huntsville Gem and Mineral Society (HG&MS) was organized in 1958 by a small group of people who were interested in the lapidary arts. The Society was officially incorporated in Alabama in 1965 as a non-profit educational organization. In 1961 the organization consisted of 15 members. At present we have around 150 members.
This Society is affiliated with the American Federation of Mineralogical Societies and the Southeast Federation of Mineralogical Societies.
News
We're busy getting ready for the Club's Annual Gem, Jewelry, & Mineral Show October 10 to 12.  We'll be in a new location – the Jaycee Community Building at 2180 Airport Rd. SW, in Huntsville.  This will present us with new opportunities, but also some challenges, of course.  It will take a lot of time and [...]

The HGMS fundraising auction was postponed last month because of bad weather. The NEW date for the auction is Tuesday, May 27, 2014. The auction allows our members and our guests to bid on a wide variety of gems, minerals, jewelry, lapidary tools, books, magazines, and much more! The Auction is our largest fundraiser of [...]
Due the to threat of severe weather tonight, the Huntsville Gem & Mineral Society auction will be postponed. We are sorry for the inconvenience, but your safety is our priority. We will let you know when we select a new date for the auction. Stay safe, everyone!