About the HGMS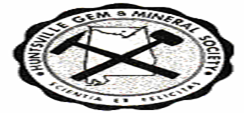 The Huntsville Gem & Mineral Society is a non-profit educational organization for people interested in mineralogy, geology, paleontology, and related lapidary arts. Its primary purpose is the education of the members and the general public in these areas. This purpose is accomplished through programs, shows, lectures to school children and organizations, and exchange of rocks, minerals and artifacts.The Huntsville Gem and Mineral Society (HG&MS) was organized in 1958 by a small group of people who were interested in the lapidary arts. The Society was officially incorporated in Alabama in 1965 as a non-profit educational organization. In 1961 the organization consisted of 15 members. At present we have around 150 members.
This Society is affiliated with the American Federation of Mineralogical Societies and the Southeast Federation of Mineralogical Societies.
News

The Pebble Pups Meeting on this Thursday, 21 May 2015 at Sci-Quest located at 1435 Paramount Drive, Huntsville, AL 35806 will be featuring "Fossils" presented by Bill Friday. Bill is quite entertaining and has a number of fossils to show the kids. This meeting will also answer any questions relating to the Cane Creek Canyon […]

"Restless in Alabama" presented by Lowell Zoller      On 26 May 2015, Lowell Zoller will address the geological and fossil history of Alabama as well as the southeast. The program will concentrate on what you might and might not find in our State of Alabama. The presentation will be at the Huntsville Senior Center on […]

I'm excited to announce Myra Soroczak on 9 June 2015 will lead Tutorial #6  on Wire Wrapping a Cabochon.  For HGMS members wanting to participate, signups start Tuesday, 12 May 2015 at 6:00 p.m. at the Senior Center Paint Room.  A supply list and required tools will be announced within the next week. More to come!