Welcome to Our Website!

The Huntsville Gem and Mineral Society (HGMS) is a non-profit educational organization for people interested in mineralogy, geology, paleontology, lapidary arts and related fields.  Our primary purpose is to educate our members and the general public in these areas.  We accomplish this by presenting programs, shows and lectures (to school children and organizations); hosting field trips; and exchanging rocks, minerals and fossils.
Guests and visitors always welcome!
  History      Special Events      Newsletters

We added back issues of our newsletter!
Mark Your Calendars Now for Our Annual Show!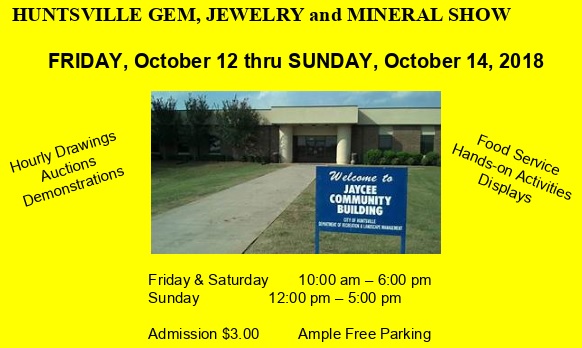 Did You Know?
August 31st is National Diatomaceous Earth (DE) Day!  On this day, we recognize the diatom (a tiny single-celled plant) and the remarkable sedimentary rock it creates.  Did you know that diatoms produce about ¾ of the world's new oxygen supply?  Diatom skeletons (called frustules) are tiny, intricate porous-opal structures known to be the strongest naturally-occurring substances.  (Read more…)