Welcome to Our Website!

The Huntsville Gem and Mineral Society (HGMS) is a non-profit educational organization for people interested in mineralogy, geology, paleontology, lapidary arts and related fields.  Our primary purpose is to educate our members and the general public in these areas.  We accomplish this by presenting programs, shows and lectures (to school children and organizations); hosting field trips; and exchanging rocks, minerals and fossils.
Guests and visitors always welcome!
  History     Next Meeting     Special Events      Newsletters
Mark Your Calendars Now for Our Annual Show!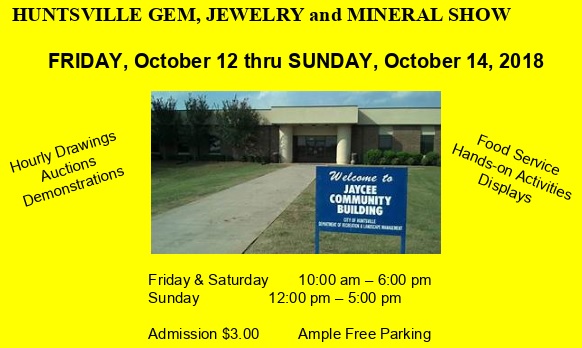 Did You Know?
Alabama is one of only a handful of US states that have a state mineral (hematite, designated in 1967), a state rock or stone (marble, designated in 1969), a state gemstone (star blue quartz, designated in 1990) AND a state fossil or dinosaur (basilosaurus cetoides whale, designated in 1984).
Basilosaurus ("king lizard") is a genus of prehistoric cetacean that existed during the Late Eocene, 40 to 35 million years ago (mya).  The first fossil of B. cetoides was discovered in the United States and was initially believed to be some sort of reptile, hence the suffix -saurus, but it was later found to be a marine mammal. Wikipedia