About the HGMS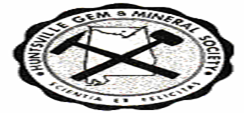 The Huntsville Gem & Mineral Society is a non-profit educational organization for people interested in mineralogy, geology, paleontology, and related lapidary arts. Its primary purpose is the education of the members and the general public in these areas. This purpose is accomplished through programs, shows, lectures to school children and organizations, and exchange of rocks, minerals and artifacts.The Huntsville Gem and Mineral Society (HG&MS) was organized in 1958 by a small group of people who were interested in the lapidary arts. The Society was officially incorporated in Alabama in 1965 as a non-profit educational organization. In 1961 the organization consisted of 15 members. At present we have around 150 members.
This Society is affiliated with the American Federation of Mineralogical Societies and the Southeast Federation of Mineralogical Societies.
News
HGMS Auction will be held at the Jaycees Bldg. Date: April 29, 2018. Please go to the Auction page for more detailed information and directions. 
Please join us on February 28th at 6:30 to hear our guest speaker John Messamore's discussion about Jade (see description below and bio). 6000 Years of Chinese Jade Culture. Will discuss characteristics and sources of jade, working methods, typical Chinese forms, development of culture and impacts of class on early use. Will use historical and personal […]
Please join us on February 28th at 6:30 to hear our guest speaker John Messamore's discussion about Jade (see description below and bio). 6000 Years of Chinese Jade Culture. Will discuss characteristics and sources of jade, working methods, typical Chinese forms, development of culture and impacts of class on early use. Will use historical and personal […]